Lotus of Life Star Matrix Activation Training
Sacred Geometry and Bodywork
We've been told many times by the Star Elders that technologies would appear to help us open up the energy gates of the body for  rejuvenating the body-mind-spirit.

It was our time in New Mexico in July 2022, through synchronicity, that found our activation team using the Lotus of Life to receive vast inner stellar light from Vega. It all started with a very dear man, Raymond Pelletier, a pioneer in sacred geometry that I met in Crestone Colorado in 2017.
Raymond shared a drawing he had done that represented the 32 Global Light Centers. He called our mission a human energy generator as we are all working together as one to upshift the planetary grid of consciousness. A simplified version of his very complex drawing became  our "All As One" logo.
As spirit would have it, through a mutual friend, I met Joseph Asterita. He recognized the symbol as the same that he had been led to create and use in his work with the ley lines. This is where our current grand adventure began. 
Prior to our trip to New Mexico, inner guidance led me to use Joseph's Lotus of Life metal art in an energy session. The work continued with another person. Same profound results. Then in New Mexico, over three very intense days, I was shown how the Lotus of Life is to be used as a start matrix activator and light amplifier. It activates higher consciousness while also clearing lower frequencies long held in the body.
We are now ready to share this work with those who feel called to serve their fellow embodied ones. 
"I feel strongly that this is the work of the Centers as we help to realign the body with the ley lines of the earth."
~ Carol Fitzpatrick
"The Vesica Piscis with the Sacred Number of 12 is an amplified field of that of Unity and Harmony with All Things being in Balance." - Carol Fitzpatrick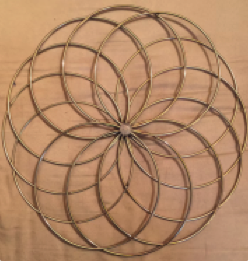 This was an impromptu channeling session in which Mark asked Carol specific questions about the use of the Lotus of Life Sacred Geometry design sculptured by Joseph Asterita. In the middle section a plethora of other information comes through on Activations, use of crystals, the controlling factions on the planet, etc... A fascinating account of the efficacy of the Lotus of Life, when to use it, how not to use it, and the zero point created when used with intention.
What is It?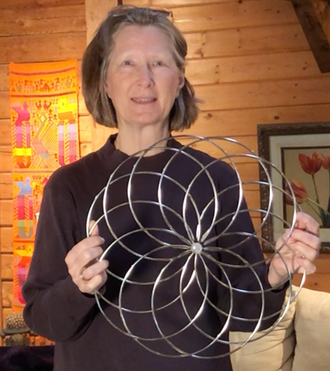 Star Matrix activation occurs as we tap into how the body is inter-connected to the planetary ley lines. 
The Lotus of Life Training: During a 4-day experience, you will learn the significance of the sacred geometry of the Lotus of Life, and then be shown the energy gates of the body while learning how to use it for healing, clearing and activation. 

Your facilitators:
Joseph Asterita has created a metal Lotus of Life and has used it to do global grid activation and clearing (a workshop to TBA for summer 2023); 
Spirit has shown Carol Fitzpatrick how to open the body's star gates as they correlate to the human energy system for aligning with one's higher purpose; 
Mark Torgeson brings in 30 years of working with the body and human energy system to give students the fundamentals of individual tablework. 
Join us for an enthralling four days of learning and bathing in the energy of the Lotus of Life Sacred Geometry. 
Given the intensity of the work, space is limited.
What You Will Experience...